BittsAnalytics
Leading analytics platform for digital assets
Trusted by many hedge funds and individual clients
Why social media sentiment?
We analyze millions of social media posts about cryptocurrencies each day. We use machine learning to determine sentiment polarity of social media posts to determine the average sentiment of all cryptocurrencies in real-time. These signals have proved very valuable in numerous cases so far. See past cases below:
Video of BittsAnalytics
BUILT ON DEEP EXPERTISE
A unique combination of advanced frameworks (machine learning, deep learning, NLP, etc.) applied on the Big Data of cryptocurrencies
Bitts Analytics is based on a wide set of software solutions developed by our company Alpha Quantum.

These technologies were integrated into BittsAnalytics allowing us to offer our users a wide array of advanced features:
Cryptocurrency Technical Analysis

Social Media Sentiment and Mentions Analytics

Blockchain Analysis (Rich lists, large movements)

Artificial intelligence algorithms applied on pricing and news data

Alerts based on pricing, volume and sentiment data
Cryptocurrency News

Performance measurement

Portfolio Optimisation

Digital Aisistant AiDA

Risk Management
Explore More
Subscribe Now
Social Media Mentions
Prices of many assets are influenced by the hype and number of social media mentions about them. Often it is very worthwile to know which cryptocurrencies are the main talk of the financial world or which are experiencing a sudden surge in interest. You can get this information with our BittsAnalytics. We are calculating number of mentions for cryptocurrencies in social media to find surges in interest as well as deliver historical comparisons and analysis. BittsAnalytics can thus serve as a very effective crypto social media tracker of cryptocurrencies.
Start exploring
Prices of certain assets are importantly driven by the sentiment and hype about them. By subscribing to BittsAnalytics you can easily access sentiment data for almost any cryptocurrency in real-time and for the recent past. We also provide you with powerful analytical tools so you can easily get important insights from our sentiment data. For examples of how real-time sentiment can serve as trading signals (what we call "BittsSignals") please visit our blog posts about BittsSignals.
We are using machine learning to calculate sentiment of millions of social media posts and aggregate sentiment data on hourly and daily basis for individual cryptocurrencies.
Start exploring
Cryptocurrency News
We are tracking thousands of news sources each day to find thousands of important and insightful news on cryptocurrencies in real-time. We categorize news per cryptocurrency so you can easily see all the important news about a given cryptocurrency published in real-time. Each news is also tagged with sentiment, determined with machine learning based on the text of the individual news. This gives you an additional way of searching for news and evaluating news sentiment about individual cryptocurrencies.
Start exploring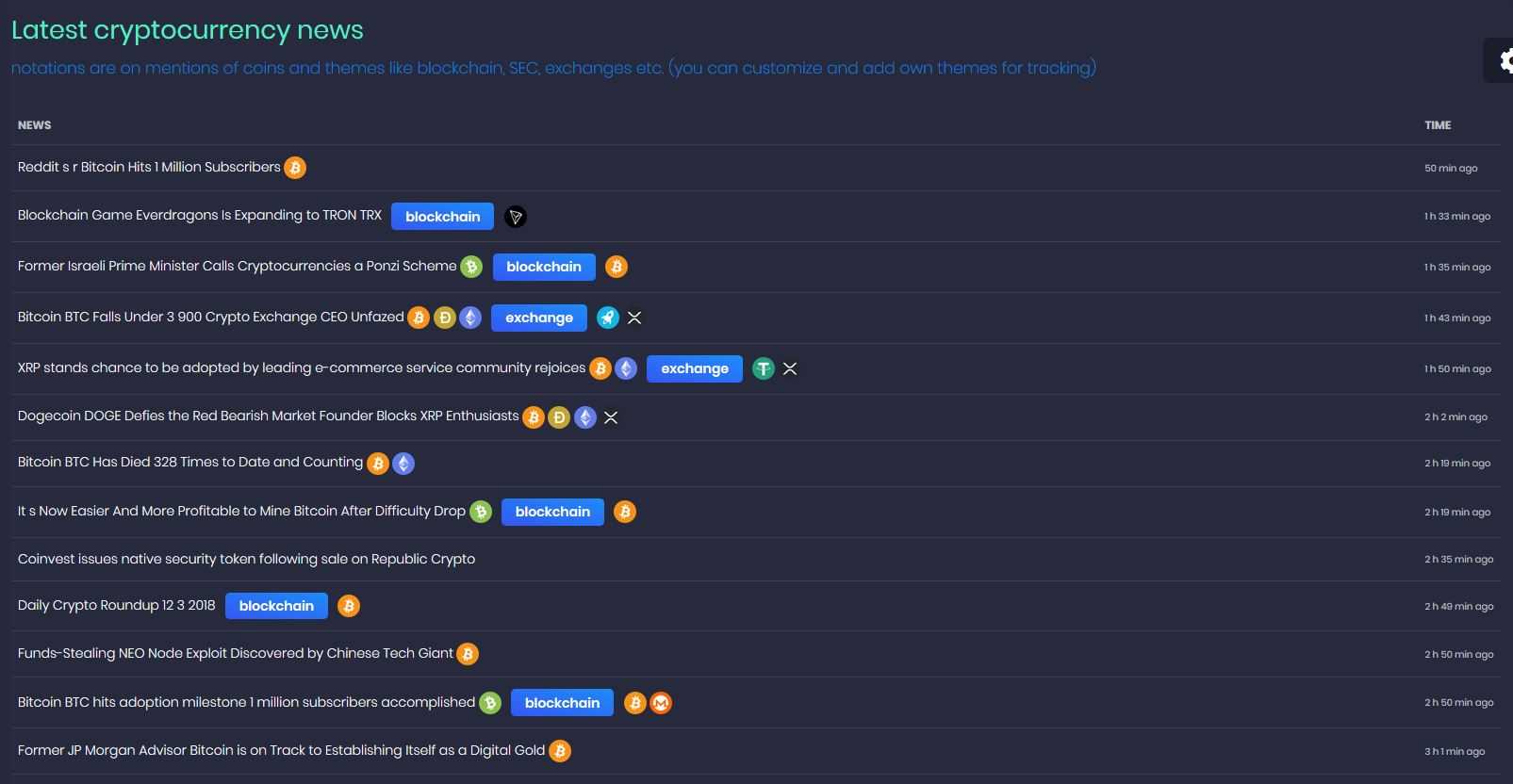 We have built a proprietary innovative system for assessing potential bands of resistance using deep learning applied on a vast amount of data we have at our disposal - pricing, trading, social media analytics and news data. Bittsbands analytics is integrated in our crypto analytics platform helping you analyze possible price movements in different bands. Bittsbands have proven excellent in analysing what may happen with future prices. For an introduction see e.g. our blog post about recent application on Bitcoin: BittsBands excellent predictor of price movements.
We are using deep learning on a vast and unique sets of data to assess potential bands of resistance in prices and help you in estimating possible price paths.
Subscribe Now
Cryptocurrency Technical Analysis
We have built an advanced system for automated detection of chart patterns and integrated it in our platform. If you do not want to lose your time each day looking for new chart patterns on thousands of cryptocurrencies but want to have it available each day automatically then BittsAnalytics platform is the right solution for you. For patterns we will also provide you with advanced statistics such as risk reward ratios. If interested in bitcoin technical analysis or for thousands of other coins then BittsAnalytics is the right solution for you.
We are using machine learning to automatically detect complex chart patterns as part of our cryptocurrency technical analysis. Subscribe to our platform and let us do the chart patterns searching for you.
Subscribe Now
Cryptocurrency API
BittsAnalytics is a high-quality platform which provides real-time, reliable and unique data APIs for the cryptocurrency market. We specialise in providing data sets with high impact on prices of digital assets: social media sentiment, social media mentions, technical analysis - chart patterns, price resistance and support levels, blockchain analytics API (movements in rich lists). Read more about our APIs at Cryptocurrency API .
150
main Cryptocurrencies
500.000+
Sentiment and other data points generated (per month)


100+ million
combinations of social media posts - cryptocurrencies analysed (per month)
Personalized Portfolios
BittsAnalytics allows you to set up and track you own personalised portfolio. Our analytics tools allow you to easily us track the changes in portfolio value as well as individual cryptocurrencies of the portfolio. To better understand the historical performance of your personalized portfolio both on absolute and relative basis we provide you with advanced Performance Measurement tools (indicators include Sharpe ratio, Excess return, Sortino, Information ratio and many others).

Our Risk Management tools such as risk attribution will help you understand where are the main risks hidden in your portfolio. Risk metrics such as VaR and Maximum drawdown will help you understand possible losses in adverse scenarios.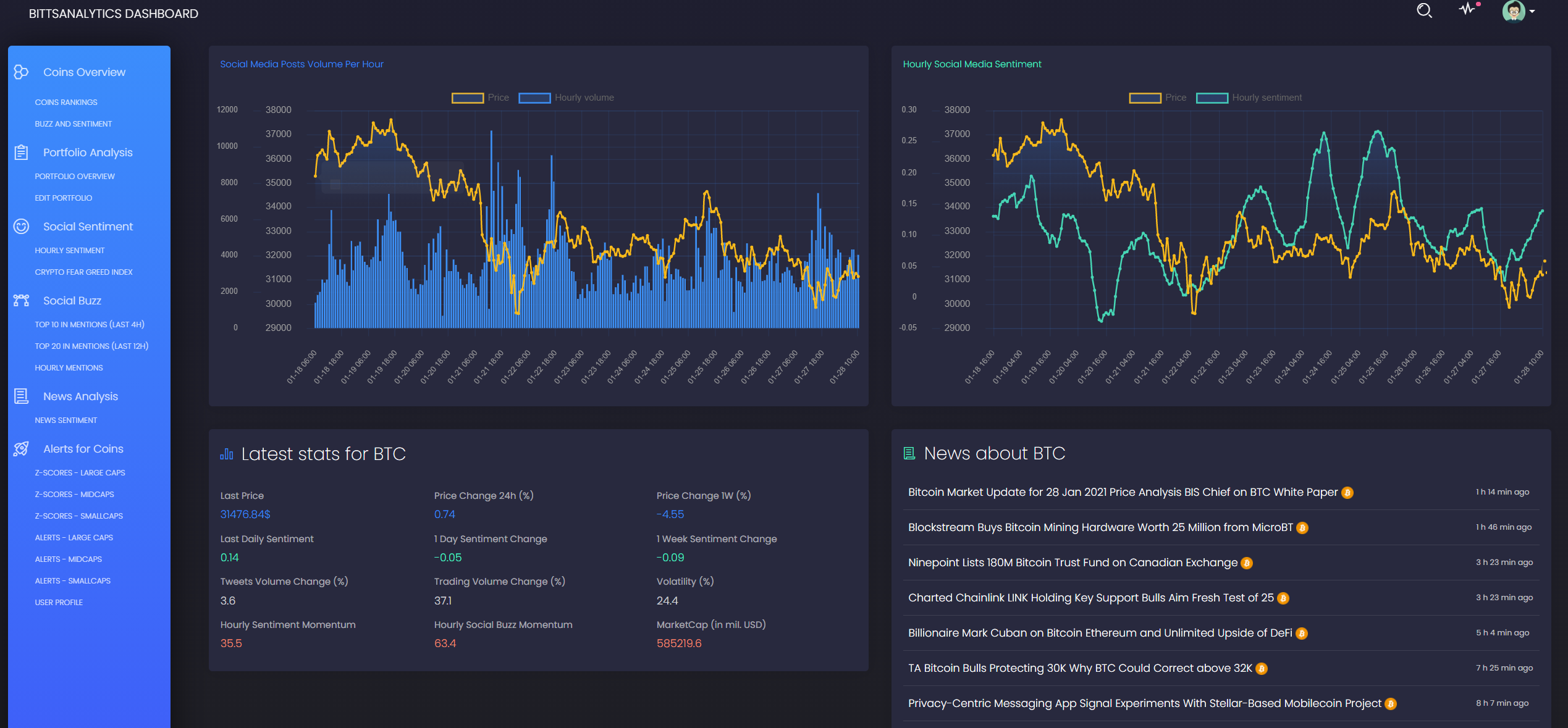 About Us
BittsAnalytics is an innovative data and analytics platform for stocks and cryptocurrencies from company Alpha Quantum.
Website: www.alpha-quantum.com
Company Contacts
Alpha Quantum
Komenskega 40, 1000 Ljubljana
Slovenia (EU)